Description
Waist-High Turnstile (panel throw out principle)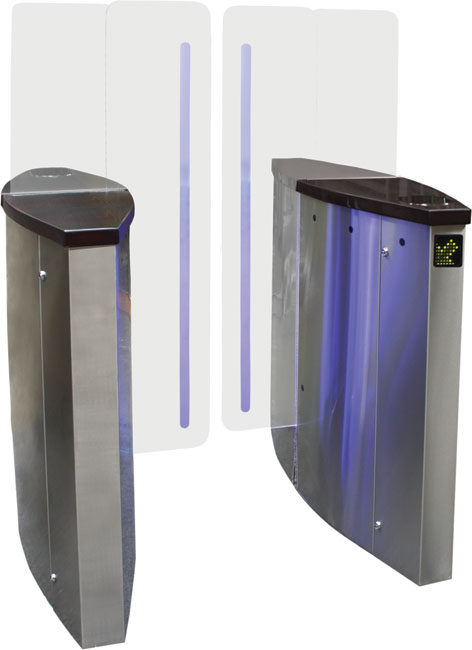 Purpose
The "JETPAN" is designed similar to "SPEEDBLADE" turnstile. The only difference of "JETPAN" is high glass panels 1.5m high. Due to this you get effective protection of your site comparable to full-height turnstiles, but at the same time more graceful solution for stylish lobbies of office centers, banks, state facilities. High panels prevent some things being handed over through the turnstile and the "JETPAN" modification with flosted panels visibly separates the protected area from the public eye. Glass panels of the turnstile can be manufactured according to the Customer's choice.
Controlled by
· access control system;
· manual control.
When power goes OFF both directions are free.
Electrical Specifications
· Voltage:
– from the (100–240) V, 50/60 Hz.
– from a DC source 12 V.
· Maximum power consumption 155 Watt per pass.
· Degree of protection according to GOST 14254-96 – IP41.
Technical specs:
Drafts:
Length
Single pass – 1080 mm
Two-pass – 1870 mm
Width
1000 mm
Height
1540 mm
Weight, not more
Single pass – 288 kg

Two-pass – 469 kg

Technical Parameters:
Response time
0.8 sec
Crossing capacity
30 person/min
Passage width
516 mm